BRAVADO ENTERTAINMENT PRESENTS
THE MAN WITH THE FRAGILE LOWER JAW

2002
TRT: 3:13
Comedy
TMR: 13

A man stands at a bus stop. He's nervous, recoiling from everyone who comes close to him. Finally a girl confronts him, and he reveals... that he's the man with the fragile lower jaw! A random eyes gauntlet movie written by Joe Sherlock and produced by Alan Winston, this German expressionist kung-fu flic ends with an action-packed conclusion!

Full Credits




AWARDS
2008 Faux Film Fest
·Festival Selection
2004 Le Itisness Cinemathon
·Festival Selection
2003 REwind Movie Awards
·Festival Selection





COMMENTARY

Heh... this one is so weird. But I guess that's what I was trying to do. That's the point of doing a gauntlet, right? For something that we shot in a day, it's pretty neat. The sound effects and music all come from the original version of the 'Bruce Lee movie' Game of Death. And, while I kind of wish the 'expressionist' part of the equation came across a little better, I'm pretty happy with it.

-Alan Winston




ON-SET DISASTERS
This one turned out to be a rather frustrating shoot. Most of the actors had never spoken German before, and some were less than happy with the situation (the script was typed out phonetically as well). And 80% of the way into shooting, a bus pulled up to the bus stop across the street (imagine that) and waited. And waited. With the engine running. Loudly. For a half-hour. And right when we were about to go complain... Elvis got out of the bus! Seriously, it was him. He smoked a cigarette and drove away. Possibly more odd than the actual movie...




The bus stop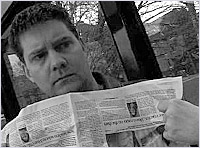 The Man with the... etc.

The girl lays the smack down

Oh so Euro...