BACON NEWS PICTURES PRESENTS
ROAD RAGE 3: BLOODY ASPHALT

2000
TRT: 4:38
Action/Parody/trailer
TMR: 5

A fake trailer making fun of car-racing action movies, this one stars Dan as John McCallister, back for more in Road Rage 3. For the record, there were no parts one or two. Anyway, John and sidekick Hank take on the evil racer Tom against all odds in a world of cars, guns, gravel, stunts, and horribly (and intentionally) cliche` lines.

Full Credits



AWARD NOMINATIONS
2000 Wookiee Awards
·Best Director - Dan Magill
2000 Wookling Awards
·Most Underrated Sketch





ON-SET DISASTERS
As far as I know, there weren't any disasters. Though, on the day I shot my scenes, Dan forgot to bring the tape to record on, and had to drive back to Corvallis for it, leaving Andy Kim and myself at the airport for about a half hour. But that's about it...




John McCallister is back

Tom guns down John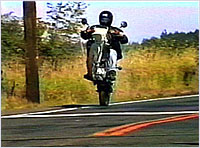 Shank pops a wheelie