DELUSIONS OF GRANDEUR EP57:
THE NEXT GENERATION

2001
TRT: 30:34
Premiere: Nov 8, 2000
Comedy/Drama/Mystery
TVR: 13 Top25: #15

Picking up where The End part 1 left off, the final year of Delusions of Grandeur starts with Jack back selling drugs to his usual customers. Unfortunately, he finds out that Waldow is an undercover cop, and he's busted and knocked out. He wakes up to in Casey's office, who is now a Matrix-esque FBI agent in charge of the investigation of the murders of all the Delusions castmembers and Alan's disappearance. He offers Jack the opportunity to join the investigation in order to wipe his police record clean. Jack accepts, and Casey partners him with another reformed criminal - Erin. They join an afroed Agent Waldow as a modern-day mod squad, and begin their investigation of the murders.

Full Credits




AWARD NOMINATIONS
2002 Wookiee Awards
·Episode of the Year
·Best Supporting Actor - Casey Campbell
·Best Supporting Actor - Shawn Waldow
·Blooper of the Year - Waldow attempts to act while high





COMMENTARY

I always wanted the show to actually have a strong continuity, but couldn't keep up with the writing, and never had a reliable enough cast to do a weekly show. But it was still something I wanted to attempt, and with a story basically set up by the last term of the show, and a small cast to work with, it was finally a possibility. I also always wanted to get back to working on the X-Files parody series, so I kind of combined both. I'm really happy that I decided to stop doing impromptu episodes, because this one turned out really nicely. I think the last term of the show is my favorite, and I kind of wish I had started a continuity sooner.

-Alan Winston




CUTTING ROOM FLOOR
Originally, Erin's character was introduced with her running in the woods Silence of the Lambs style and running across the Canon in D girls, who she beats up. All attempts to shoot the scene failed, until it was finally included in The End part 2.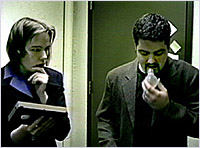 Investigating the station

Casey and Jack getting along

Erin in training

Agent Waldow