DELUSIONS OF GRANDEUR EP18:
VANILLA ICE

1998
TRT: 1:07:59
Premiere: Jun 3, 1998
Music
TVR: 19 Top25: #9 (tie)

Our very first season finale, this one featured our greatest guest star ever. Vanilla Ice, yes, the real Vanilla Ice, made an appearance on the show, giving an interview. We were also allowed to tape his Memorial Day 1998 concert at The Crystal Ballroom in Portland, OR. The show was sold out, with 1000+ people moshing along to Vanilla's greatest hits while we taped it all from the middle of it. Our most talked-about, promoted, and bootlegged episode ever, this is one of the greats.

Full Credits




AWARDS
1998 Wookiee Awards
·Episode of the Year
·Best Director - Katy Zilverberg
·Best Guest Star - Vanilla Ice





COMMENTARY

The fact that we could even get Vanilla Ice to come on the show still baffles people. All I did was call the venue, who gave me his manager's number, who gave me his label rep's number, and after getting permission from all three, we were go for the show. It's funny, after we put all the posters and newspaper ads out, the station got all sorts of calls, asking when Vanilla Ice was coming in, and if they could meet him. To this day, I still get emails from people who think that they're emailing Vanilla Ice directly, or think that I could convince him to go play at their frat party or something. And even though the episode itself contains a lower level of production value, consistent with our earlier works, it's still one of my favorite achievements during the run of the show.

-Alan Winston




ON-SET DISASTERS
Jason was origianlly going to be the interviewer for his idol, but fractured his arm in a mountain biking accident the day of the concert.
Despite taping the show from the middle of the mosh pit, neither Katy nor the camera she was holding came away with any damage.




CUTTING ROOM FLOOR
One of the songs at the concert was not taped - Roll 'em Up. Ice's management didn't want us using the performance (featuring the line "Who wants to hit my joint?! Who wants to hit my bong?!) in a negative way, so the crew agreed to turn their cameras off during the song.




Vanilla works the crowd

Onstage at the Crystal Ballroom

The interview

Shaking some fans' hands

Alan asks an interesting question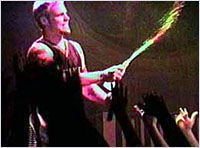 Vanilla sprays the crowd